Sale!
Large Vehicle Kit
From $430.00
Two pairs of GoTreads XL with two custom XL cube carrying cases.
Each tool has 58 inches of traction. 9 inches wide. Self-feeding design.
GoTreads XL
Two pairs of GoTreads XL
Custom, USA-made carrying case for GoTreads XL
Save 33% when purchased with GoTreads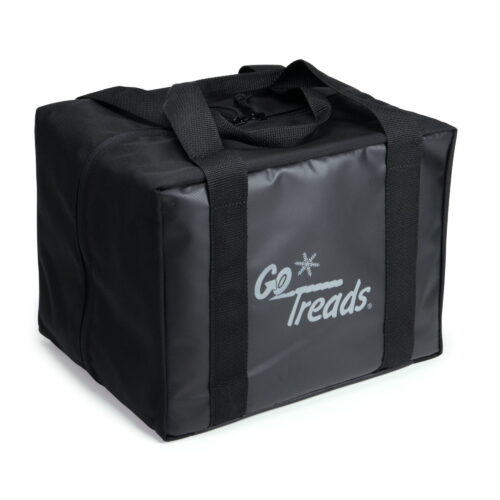 Made in the USA
Lifetime Warranty
Free Returns
For the large vehicles, we offer GoTreads as two pairs (a total of 4 boards) that fold up nicely and compactly in two bags. For most situations, place GoTreads under each tire across the axle. Two on each side. This will provide the greatest amount of surface area for grip. If you need a longer run of traction, place the GoTreads end to end. NOTE: When running GoTreads end to end, make sure the arched grooves are all facing the same way.
GoTreads are a unique, patented automotive tool designed to provide the traction needed to get vehicles going again when stuck in snow, mud, or sand. The 4-panel version offers one extra panel than our standard version for situations when you need more length. GoTreads XL provided an extra 12″ of traction and 1″ of leveling. Sold in pairs.
58 inches of traction.
4 inches of leveling.
9 inches wide.
For vehicles with larger tires (33″ diameter +) or those more often in extreme terrain conditions. The XL variant provides an extra foot of traction surface beneficial in these scenarios.
GoTreads were designed around one word – simple. It stores in small places. It can be put into position in a matter of seconds – no tools, no assembly, no attaching to the tire required.
The smooth finish of the tool allows the snow and mud to shake off for easy cleaning. GoTreads are made of flexible, high strength, high impact polypropylene copolymer with special additives to give this durable plastic even greater toughness. Yet with all this strength, it weighs only 7.2 pounds.
This bundle includes a Custom, USA-made carrying case for GoTreads XL for less! Buy them together and save 33% on the case.
The GoTreads Cube Case XL will hold two XL length GoTreads in a compact space. Each bag is custom-made by in the USA. A great way to carry and transport GoTreads between vehicles or to keep the inside of your rig clean when GoTreads are dirty.
| | |
| --- | --- |
| Color | Black, Orange, Hi-Vis, Blue, Red, Magenta |
Customer Reviews
Write a Review
Ask a Question
08/08/2023
Albert F.

US
I recommend this product
Cool product
Very good product, very good service.
04/28/2023
Dennis A.

US
I recommend this product
Large Vehicle Kit
Have not had to use these yet, hopefully never will but have them just in case. I based my purchase on videos I saw on you tube!
02/02/2023
John L.

US
I recommend this product
An ounce of Prevention
We bought these to test them out, and see if they lived up to there claim from website reviews and other personally known users reviews. As of now without any experience I can't recommend these or not recommend them. My hope is I (We) don't have to find out how well or not well they work.
07/19/2022
David W.

US
I recommend this product
They Work Great
They do as said I wish I had these last winter.