One of my favorite activities growing up was playing with my toy army trucks in the sandbox. This past weekend, I got to take that fun full scale! We borrowed a 10 ton military transport truck and drove into a sandy river bank.
Now a 10 ton vehicle in loose, damp sand is an interesting combination. Our concerns of not being able to get this massive vehicle built for off-road stuck well enough to require GoTreads were soon evaporated. The driver quickly demonstrated just how easy it is to sink 20,000 pounds into the sand. In a matter of minutes, the truck was nicely wedged into the river bank and we broke out the GoTreads for a demo video.
The truck had 2 driving wheels on each side in the back. Each time, all 4 of the drive wheels were spinning as the truck sank deeper and deeper into the sand. When we got it sufficiently stuck, we simply slid one GoTread under each side and slowly drove out.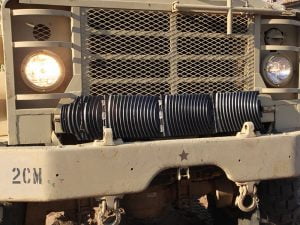 We repeated the process several times over as we captured footage from different angles. Not once did the GoTreads fail in their task to get the truck going again. There was a sense of urgency that they work because we had no way to pull 10 tons of steel out of the sand. Well, we had a Toyota Avalon there but I don't think that would have been much help!
You can check the video out here…