GoTreads are a unique, patented automotive tool designed to provide the traction needed to get vehicles going again when stuck in snow, mud, or sand. The 4 panel version offers one extra panel than our standard version for situations when you need more length. GoTreads XL provided an extra 12″ of traction and 1″ of leveling. Sold in pairs.
58 inches of traction.
5 inches of leveling.
9 inches wide.
For vehicles with larger tires (33″ diameter +) or those more often in extreme terrain conditions. The XL variant provides an extra foot of traction surface beneficial in these scenarios.
GoTreads were designed around one word – simple. It stores in small places. It can be put into position in a matter of seconds – no tools, no assembly, no attaching to the tire required.
The smooth finish of the tool allows the snow and mud to shake off for easy cleaning. GoTreads are made of flexible, high strength, high impact polypropylene copolymer with special additives to give this durable plastic even greater toughness. Yet with all this strength, it weighs only 7.2 pounds.
This bundle includes a Custom, USA made carrying case for GoTreads XL for less! Buy them together and save 33% on the case.
The GoTreads Cube Case XL will hold two XL length GoTreads in a compact space. Each bag is custom-made by Last US Bag in Oregon. A great way to carry and transport GoTreads between vehicles or to keep the inside of your rig clean when GoTreads are dirty.
| | |
| --- | --- |
| Weight | 13 lbs |
| Dimensions | 12 × 9 × 8 in |
| Color | Black, Blue, Hi-Vis, Orange, Red |
Customer Reviews
Write a Review
Ask a Question
08/08/2021
Jonathan C.

US
I recommend this product
Innovative idea and reliable product
I like the functional nature of the Gotreads for leveling my suv during camping trips, and then having the backup function for recovery. I do not intend on getting myself into recovery situations and would be bummed to only consider this product as a recovery tool. So I feel like I'm getting my money's worth for using this more as a leveling block for camping.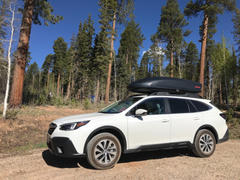 08/04/2021
Pop C.

US
I recommend this product
GoTreads is awesome!
I recently received my set of GoTreads in Maui after being the lucky winner in your contest. I had to quickly check out and see for myself how good they work. So I put my tires in the sand on a Maui beach. Needless to say it was effortless getting out of the sand in seconds with GoTreads. It will definitely put my mind at ease knowing that GoTreads will get me out of some sticky situations. And I know I will be doing that. Mahalo GoTreads. P.S. Check out your story on IG. 🤙😎
07/22/2021
Jessica G.

US
I recommend this product
It's Ok
We drive onto the beach in Lewes DE for surf fishing. This is our first summer doing this and figured we would get treads in case we got stuck on the beach. The last time we went out, we got stuck and another truck got stuck, we tried the treads on both trucks and the sand was just too soft and too deep. The tracks did not provide any grip. Yes, we were using them correctly and tried them on different tires. I would still use them for other situations it just didn't work for us in this situation.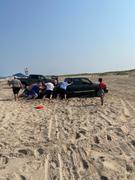 Thanks for the feedback. We are sorry the GoTreads did not work for you in that situation. Deep sand can sometimes require a longer run-up to get enough momentum. We are coming out with a quick connect pin soon that will allow users to connect GoTreads together for longer tracks. This will aid in performance in deep sand. Also, if you take a compressor with, airing down your tires while in sand can also help with traction. Just be sure to air back up proper PSI before hitting the highway. Thanks again for the feedback. We are always looking to improve our product!
07/14/2021
Melissa P.

US
I recommend this product
THESE WORK!
I live in Nevada and enjoy visiting Lake Mohave outside of Las Vegas. The road down to the lake is dirt and the lake front has sand, some packed down and some, super loose. I have a 4x4 Sprinter Van that weighs a lot… and the one time that I got stuck… I dug down and placed them in front of the back tires and was out in seconds. I have also pulled them out on three separate occasions and helped others get out with success each time. Brilliant invention! Cheaper than a winch… worth every penny.
07/14/2021
Philippe L.

US
I recommend this product
Must have when overlanding
Great product! Haven't had to use it to get myself out of any situations so far. I've used them several times to even out the vehicle when using my Roof Top Tent. I also like that it doesn't take a lot of room and I don't have to carry it outside of my vehicle and worry about theft and/or buying additional locks. Highly recommended.